This is where you will find what you've been looking for as you make Canada your home. The life you've always imagined, a safe home, fresh air and lakes, amazing schools, and family-friendly communities all. This is where adventure leads to rich cultural diversity and a departure from the stress you left behind. This is where you find a warm welcome, more smiles than you ever imagined, and a helping hand whenever you need it.
Working Here
Work-life balance isn't a trendy conversation here. It's a daily fact. Instead of just visiting on vacation, you can enjoy your new life with a book by the lake, biking along the Lakeshore, or strapped into a pair of new shoes.
Your choices of employment here range between our largest employers in the energy sector and food production to tourism, agri-business, culture, technology, and our creative entrepreneurial clusters.
There's also an entrepreneurial culture here that rewards innovation and risk-taking—the two business attributes common to most new Canadians. You will find support here and others who share your business startup and expansion dreams.
You'll find the job you're looking for or the help you need to create the business you've always dreamed about.
A range of job opportunities are available in Bruce County. Use this job board to find a match that suits your skills.
You'll find welcoming communities and lots of support for building your passion into a thriving enterprise. Meet with our team of professionals to learn how to open or expand your business in Bruce County.
There is something for everyone in Bruce County
After finishing his Master's degree at the University of Guelph, Naveen Joshey stumbled upon a nuclear job fair in Owen Sound in 2019. Surprising to him, Naveen found out that in Bruce County, in the Municipality of Kincardine, there is a large nuclear industry, one that generates 30 per cent of Ontario's power.
Through the job fair, Naveen was able to get a job in Engineering Services at Nuclear Promise X, a company that aims at making nuclear energy more sustainable by making it cheaper, faster, and safer. Naveen moved to Kincardine where he "immediately felt right at home". With a welcoming community and colleagues, Naveen quickly learned that "you don't have to love the outdoors to appreciate the lakes, trails, and everything Bruce County has to offer."
Compare living here
16 minutes average commute time
See what work life balance really means
Easy access to beaches, lakes and sunsets
Amazing community and youth services
In Bruce County you have the freedom to explore, space to create, and inspiration to make a living while enjoying your life to the fullest. Life in Bruce County is limitless, with endless opportunities—that's what makes it worth exploring.
Find the Community Vibe that Fits You
Every community in Bruce County welcomes newcomers and their families with open arms. Looking for laid-back living by the lake? How about a quaint village vibe with a cool arts scene? Or lots of shopping and restaurants within minutes of home?  Small town life in Bruce County doesn't have to mean remote living, though it can be if that's what you crave. Living here is more than putting down roots; it's waking up every day, looking out your window and saying "wow, aren't I lucky?". Explore the map to find the community that sparks your "wow".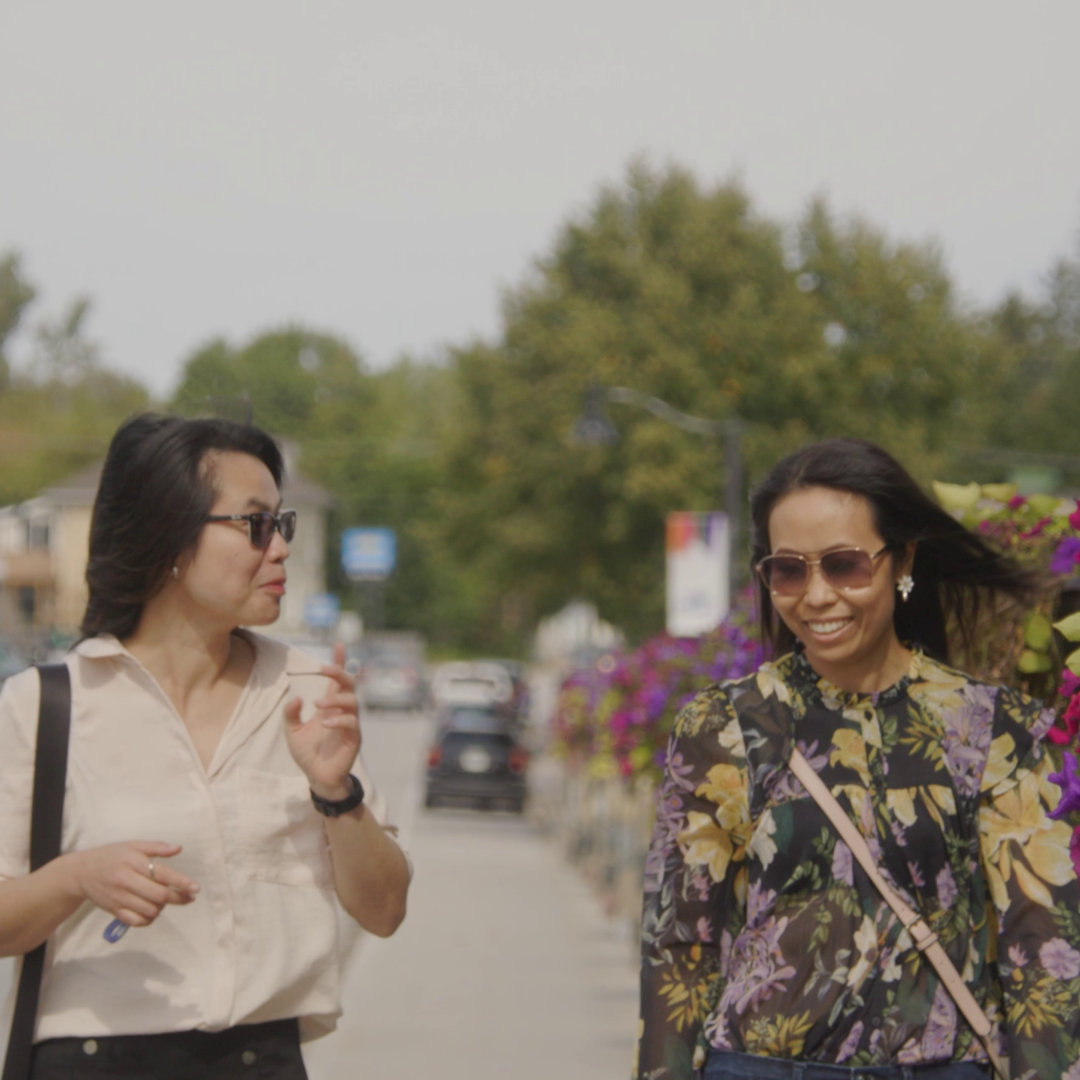 Live like you are on vacation everyday in Bruce County
"If you want to feel like you are on vacation every day, move to Bruce County," Rak Thai Kitchen co-owner, Lin says. After being a nanny for ten years in Port Elgin, she knew this is where she wanted to stay! Right before the pandemic, she reached out to her long-time friend Oil, who she had known since she worked as a nanny in the states, and told her to move to Paisley, from Ottawa, where they would open a Thai restaurant.
But before she made the move Oil had gone to Toronto and gained a certificate in Medical Studies a George Brown, because she wanted to experience living in a big city. She was from a small town in Thailand and never had the opportunity to live in the city before. Oil says she "100 per cent likes living in a small town compared to the city. The slower-paced lifestyle, closeness to the beach and welcoming community have touched her heart."
More Resources & Settlement Support
In many Bruce County communities, help is available for newcomers and their families to adapt to life here. These resources will help you learn about the kinds of supports you can access and get to know all the ways you will be welcomed to the area.